Our Teachers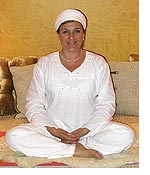 RAM DAS KAUR
Ram Das Kaur (née Lise Latulippe) began practising yoga in the mid 1990's to help alleviate back stress. Not much yoga was being offered in Ottawa then, but she found a Hatha yoga class at the community centre near her home. She later tried Kripalu yoga, Power yoga, Ashtanga yoga, Bikram yoga and Sivananda yoga, and found each had something of value to offer. And then, buckle-up!... Kundalini Yoga found her in the spring of 1998, at the then tiny Rama Lotus yoga studio originally on Elgin St. in Ottawa. Says Ram Das, "It was love at first breath. Discovering this yoga was like coming home for me."

Her Kundalini Teacher Training took place in 2000, and she has been teaching several classes a week, non-stop, ever since. For a time, she taught in school gyms & cafeterias, martial arts studios, the YMCA, and government offices. Finally, the Universe inspired her to open the Adi Shakti Yoga Centre in Orléans/Ottawa in 2003, a studio firmly committed to teaching the technology of Kundalini Yoga as instructed by Yogi Bhajan and the ancient yogis: undiluted, diverse, powerful, vast and beautiful.

Now, years later, having taught some 4000 Kundalini Yoga classes & workshops, she is still as passionate about her practice as ever. She has watched how this style of yoga has transformed her, her colleagues and her students. It combines a complete combination of challenging physical exercise, yogic breath patterns, meditation, lifestyle information, and philosophy.

In 2006, Ram Das Kaur initiated the first Women's Kundalini Yoga Camp in the region. It is now an annual summer event hosted by the Adi Shakti off-site at a country retreat. This continues Yogi Bhajan's tradition of holding specialized yoga and lifestyle training just for women.

Aside from teaching Yoga, Ram Das is also a Reiki Master and teaches the hands-on healing modality of Reiki (http://www.adishaktiyogacentre.com/reiki1.html). In fact she credits Reiki with being the spotlight that began illuminating her life's path back in 1994, and awakened her to the power of unseen energy, and how it can be harnessed for healing & self-transformation. She has taught Reiki (Levels 1 & 2) to a multitude of students, and she has given some one thousand treatments to date, most during her seven years as a volunteer Reiki therapist at the Aids Committee of Ottawa.

Over the years, Ram Das has had the privilege of learning at the feet of senior Kundalini yoga teachers of note such as Gurucharan Singh, Gurmukh Khalsa (Los Angeles), GuruGanesha Singh (musician, teacher & founder of Spirit Voyage Music), Snatam Kaur (kirtan singer extraordinaire), Mata Mandir Singh (Master of Naad/Sound yoga), Sat Kartar Kaur (kirtan singer of 30+ years), Hari Nam Singh (Sat Nam Rasayan healing modality), GuruDev Singh (master of Sat Nam Rasayan), Krishna Kaur (30+ years teaching yoga to inner-city youth & inmates in USA), Shakta Kaur (women's & Radiant Child yoga & author), Shakti Parwha Kaur (author & the earliest student of KY in the USA), GuruPrem Singh (KY posture master) as well as many, many others.

Since 2002, she has attended every Kundalini Yoga Summer Solstice gathering in the Jemez Mountains of New Mexico, where she continues to learn at the feet of senior Kundalini teachers. Since 2001, she has participated in over 60 workshops of White Tantric Yoga meditation (White Tantric Yoga.com) in Ottawa, Toronto, Montreal, New Mexico & Florida.
In 2017, she began launching on-line breath meditation training sessions for federal public servants, to help combat stress and anxiety in the workplace. She also teaches lunch hour meditation classes in her federal government department.

Before Yoga beckoned, Ram Das Kaur travelled to and/or worked in India, Costa Rica, as well as Togo & Ghana (West Africa). At home, she is blessed with her very supportive husband of 25+ years, and the unconditional love of a highly affectionate furry dog-kid named Pepper-Spice. All three of them love to hike and camp together as often as they can.